Saturday morning, we loaded up our station wagon and headed to Chicago for one more quick weekend trip before our family changes forever. As we drove, we wondered what our next road trip would be like with a car seat in the back seat...with Maya.
It was a really short trip, but full of beautiful memories. Saturday night, after a peaceful afternoon nap at the hotel, we met my
friend
Allison
's fiance Marc, an amazing jazz trumpeter who frequently plays at the...
Currently, he's playing in a twelve piece band in the show
"Come Fly With Me"
at the Mercury Theater, and got us tickets.
After the show, we enjoyed dinner at a great Italian restaurant next door.
Sunday, we woke up slowly in our beautiful hotel room... walked a couple blocks to find breakfast, wandered around the staircases and ball rooms of the Hilton, then lounged in the hotel lobby, sipping Chai and coffee in a window seat, waiting for the city to open at 10:00.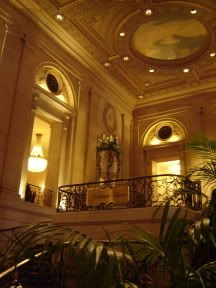 The Art Institute of Chicago.
Seeing the actual brushstrokes of Renoir, Monet, Hopper, Sargent, Picasso...whose lives and work left profound marks on their world...renewed my love of art, and my Creator-given desire to create. There are few places that hold such power to inspire. The beauty of the architecture, the white marble staircases, the intricate details. The quiet rooms filled with paintings, sculptures, drawings, pottery that are more than just beautiful pieces of art. They are vast records of history and thought...centuries of people, relationships, tragedies, struggles.
One of our favorite paintings of the day..."The Picture of Dorian Gray."
After the Art Institute, we walked a little ways down Michigan Avenue, to watch the ice skaters in the park...on our way to the 'Miracle Mile' of materialism and excess. We didn't do any real Chicago shopping this trip...besides the free little rubber pad replacements they gave us for the bottom of our notebook at the Mac store, and the free massages we always enjoy at The Sharper Image.
Mostly we just enjoyed being together...a car ride for long conversations, an exciting city filled with people and music and art, distant friends, an elegant hotel with amazingly fluffy pillows, no alarm clock, no obligations or work, no real responsibility for two days...decadent.